Gift Certificates for our Instinctive Archery Courses
Instinktive – Intuitive Archery with Henry Bodnik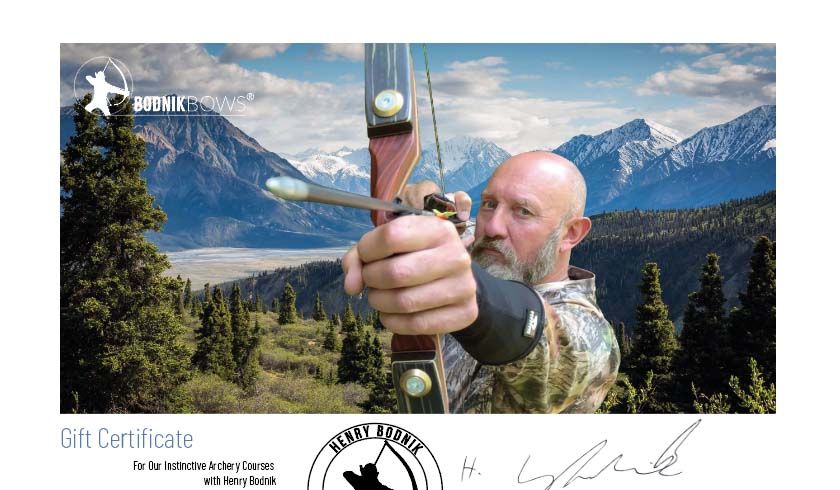 These Instinctive - Intuitive Course gift certificates are the perfect gift for any traditional archer! For more than 25-years, Henry Bodnik has been teaching basic and advanced courses on Instinctive - Intuitive shooting. In both his basic and advanced courses he shares his in-depth knowledge and teaches his students everything they need to know about this fascinating technique of shooting traditional bows and arrows. Henry personally works with every student and future instinctive archery trainers so they can learn the concepts, practice the techniques, and embed them deep into their consciousness. Whether you are interested in learning instinctive-intuitive archery for your own shooting experience or, if you aspire to become an instructor of these methods, these seminars by Henry Bodnik are the best you will find anywhere.
You can find more information about our Instinctive - Intuitive Archery courses here on our homepage.
---
How can you get the gift certificate for a course in Instinctive - Intuitive Archery with Henry Bodnik?
Fill out the information on the order form
Pay the invoice amount (It will be sent by email)
Print out the credit - gift certificate (It will be sent by email)
The Gift-Certificate for these course credits is valid for 3 years. Please note: The three years start on the actual invoice date.
Order Form
By submitting the contact form, you consent to the storage of the data provided for the purpose of processing the request and contacting us. The data will not be shared and will only be used to contact you. You have the right to request the correction, blocking, or deletion of this data at any time.