Announcing!  The Bowhunter Challenge Germany - Switzerland
After 11 amazingly successful years, the kill tournament has been given a new name and a new look. Don't worry! The Bowhunter Challenge will carry on in the footsteps of our legendary kill tournament!

Of course, we will continue in the tradition of our unique tournament and we invite you all to our 12th tournament to be held in Eisenbach in the Hotel Bad.
This 12th tournament will be as exciting and challenging as always, but will now be taking place under the new name "Bodnik Bowhunter Challenge."
If you hadn't heard, we did, some time back, publish a blog post here letting everyone know in advance the change we were making to the tournament name.
We are excited to be able to hold this 12th Bodnik Bowhunter Challenge tournament and we are looking forward to seeing so many of our good friends and to the opportunity to make new friends with our fellow instinctive archers. We guarantee that, as always, we will pour ourselves into this event so that it is one of our best ever! And with the very personal influence, guidance, and special signature of Henry Bodnik, we know that this will be a tournament to remember!
So, today we are publishing our official announcement for the 12th Bodnik Bowhunter Challenge Germany - Switzerland!

Below you will find a lot of important information in our announcement for this 12th Bowhunter Challenge Germany - Switzerland.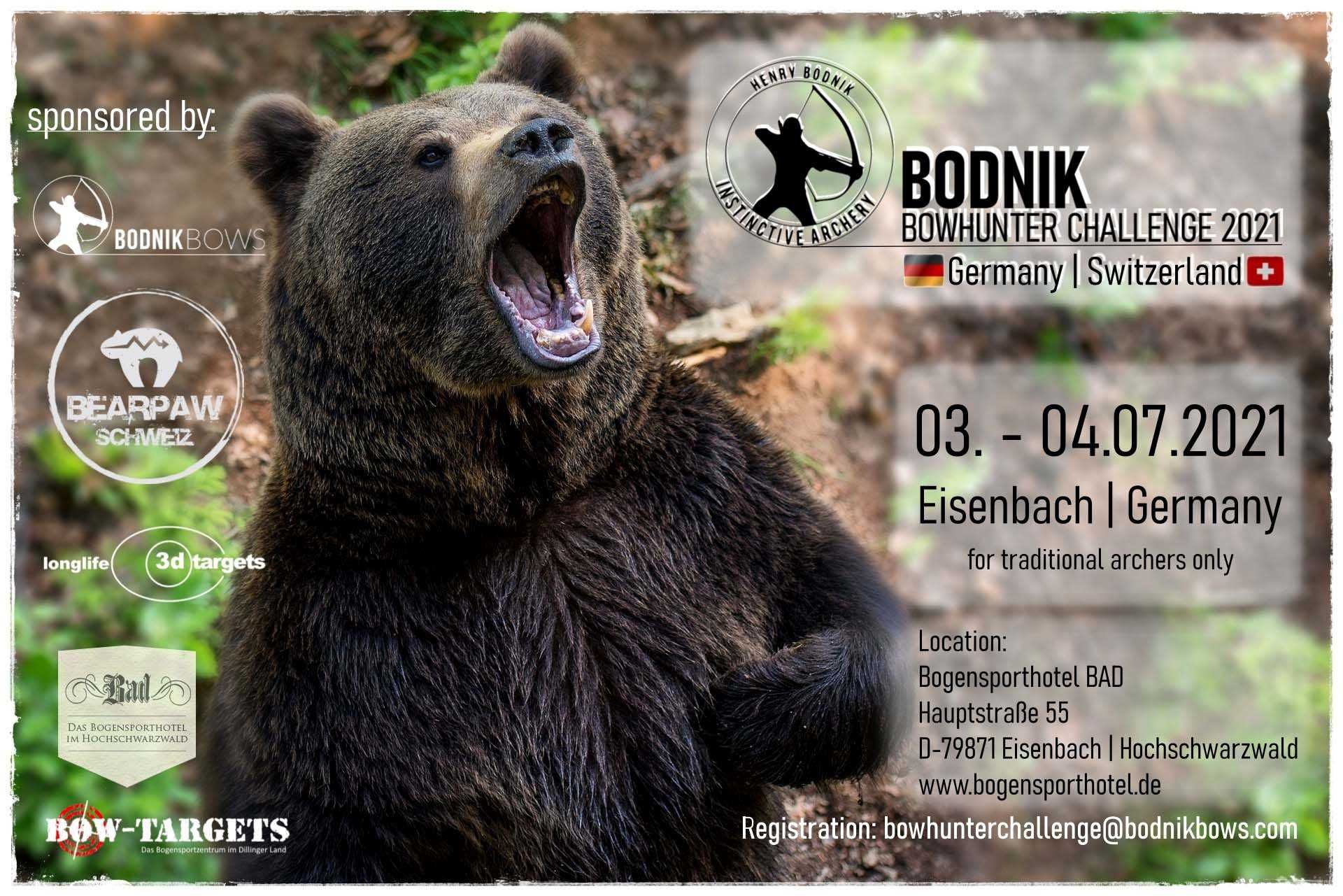 Email - Registration
Registration still takes place via email and will be processed personally by Chris Unger!
Please send us the following information by email to This email address is being protected from spambots. You need JavaScript enabled to view it.

• Surname and first name
• Bow division
• Age group
• Country

With this information, we can ensure that you are assigned to the correct shooting class. Please note that your reservation for the tournament is only confirmed after we have received your entry fee.

We also ask all archers who had already registered last year (and had already paid their entry fee) to please confirm their participation again by email. Mailto: This email address is being protected from spambots. You need JavaScript enabled to view it.
Competition Rules Bodnik Bowhunter Challenge
Any questions about the tournament, the rules or the bow classes?
Simply press the button below and include your questions into the contact form directly to Henry Bodnik!